Who we are:
Up With Women is a growing registered charity dedicated to helping recently homeless and at-risk women to build sustainable, prosperous careers and businesses with the aim of permanently exiting poverty. We serve six regions across Ontario (GTA, Ottawa, London, Kitchener-Waterloo, Cambridge and Guelph), with plans to expand nationally over the next 5 years.
What we do
Up With Women clients undergo a year-long intensive program of career and entrepreneurship-based one-on-one customized coaching, in-depth personality and emotional assessment tools, group-support sessions, and soft-skills development. We partner clients with International Coach Federation certified professional coaches for bi-weekly career coaching, who are then trained to serve our clients. All coaches provide their services at pro-bono, thereby allowing Up With Women to deliver high quality service at a very low cost.
Who We Work With
The selection process is targeted to women who have experienced a range of set-backs.
Why we do it
Talented women are falling through the cracks. Many women experience career interruptions due to life events – but the longer one is out of the job market, the harder it is to get back in. The cycle of homelessness and poverty can be extraordinarily difficult to escape. Up With Women gives the skills and opportunities to break the cycle. See "Breaking the Cycle" for more details.

.Testimonial: From homeless to building a children's drama business
Getting Results
During the 2016-17 year, we were able to achieve outstanding impact in the sector. With secured funding for evaluation, we hired an independent evaluator to assess our program impact and compare it to a control group of wait-listed non-participants. The results were exciting: our clients reported higher confidence levels, and were 26 times more likely to have set short and long term goals and have made headway toward achieving them.
Most striking, almost all members of the control group experienced no change in income, while most of our clients experienced a positive change in income, averaging a $12,383 increase in income over the year, going as high as $28,600. Most clients were on social assistance prior to the change.
By providing a focused, personalized program for each woman, Up With Women has seen dramatic changes. By the end of the program, 70% of our clients have become employed and as many as 50% had started their own businesses.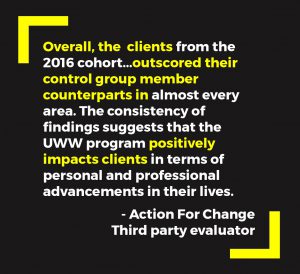 Breaking the cycle
Up With Women tackles an urgent issue in Canada that studies suggest is getting worse. An estimated 200,000 Canadians experience homelessness in any given year. (Canadian Homelessness Research Network, 2013). The same study found that one and half million households are at risk of becoming homeless. What's more, families are disproportionally affected. The latest research found that shelter use among children and youth in Canada is up by 50 percent (Raising the Roof, 2016).
Incidences of violence are overrepresented among women and youth who have experienced homelessness. One of the largest studies to date (Browne & Bassuk, 1997) found that 92% of a diverse sample of homeless mothers had experienced severe physical abuse and/or violence.
Although domestic violence often precedes, and may contribute to, women's and youth`s homelessness and risk for re-victimization, the condition of homelessness itself dramatically increases the risk of being re-victimized.
Poverty, violence and unemployment are the greatest determinants for a woman to lose her home, thus placing her and her children in increasingly vulnerable situations.
The tragedy is that, once homeless and jobless, it is very difficult to claw your way back. A recent landmark 100 City North American study by the Universities of Toronto/Chicago/McGill on long-term unemployment proved that gaps in employment – as little as four months – significantly reduces the chances of even receiving a call-back for a job interview. Gaps of 8 months or more reduce the call-back rate below 4%.
Up With Women breaks this cycle by helping at-risk women and youth to maximize their personal and career potential, and build a sustainable pathway out of poverty.
Coaching vs. Mentoring
The program has been designed highly skilled, senior leaders, university professors, career and coaching experts. Unlike a mentoring program where a professional volunteers their time to guide someone according to how they would themselves pursue a path, certified coaches are trained to help the client to discover their own unique strengths and challenges and strategically develop a path that is specific to the client. All coaches are trained to understand the specific challenges women face in deep poverty and homelessness.